After a while of playing Minecraft I had chests full of just about every block in the game. The only thing I was missing was that pesky obsidian block. It is not the easiest to get and you must have a diamond pickaxe to break it. If you don't want to spend even longer breaking it, you enchant your pickaxe. Even with an efficiency V pickaxe, it still takes a while to break.
I grabbed my enchanted pickaxe and a bucket of water and headed to a lava lake not too far from my house. I poured the water over the lava and created a big slab of obsidian. I stood there for what seemed like days mining away, and eventually had enough obsidian make my first ender chest!
I was proud that I had finally gotten the obsidian. Sure, I already had a nether portal, but I used a water stream and buckets of lava to make the obsidian for it. I didn't actually break the obsidian and place it. Now, I had broken obsidian.
Obsidian in Real Life
Obsidian isn't something you will be able to break when you first start the game. Since it can only be broken with a diamond pickaxe, you will have to do a lot of exploring before you can get it. It is similar to many things in our lives. When we are little babies, we can't walk, talk, sing, dance, or play Minecraft! And that is OK. But as we grow, we learn to do a little bit more. We start making cute baby sounds and then rolling over. Before you know it, we are running around the house playing hide and seek from our parents.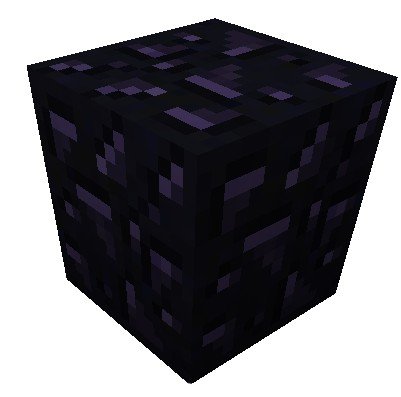 As we grow, we learn to do more things. That's just how life is. You may be given more responsibility around the house, or have your driving license and get to go on grocery store runs. Things that were impossible for you to do before, have become a part of your normal, everyday life.
Obsidian in Our Spiritual Life
The same idea is true in our spiritual life as well. When I first became a Christian I didn't know a lot. I knew that Jesus died for me, and that I needed my sins washed away. I had been in Bible class my whole life so I knew a few basic things about how to be a Christian, but compared to what I know now, I didn't know much. I studied and started paying a lot better attention during worship and I realized that I was growing stronger as a Christian and my faith was growing as well. I was ready to take on bigger challenges in my spiritual life.
Peter said, "Like newborn infants, long for the pure spiritual milk, that by it you may grow up into salvation" (1 Peter 2:2). When we are babies in or spiritual life, it's ok if we aren't ready to handle the "big stuff" in life. As we grow into more mature Christians, we are able to handle the bigger things.
In 1 Corinthians 13:11, Paul said, "When I was a child, I spoke like a child, I thought like a child, I reasoned like a child. When I became a man, I gave up childish ways." He knew that he had to grow stronger in his faith if he was going to be able to overcome the many challenges he was going to face. He didn't expect to be able to overcome these things before his faith got stronger. As we grow stronger, we can defeat bigger challenges in our life.
The Final Block
No one would stop playing Minecraft because they couldn't get obsidian as soon as they started playing. That would be silly. And can you imagine a newborn baby giving up on walking because he couldn't do it when he was only a few days old? What if Paul had given up on being a Christian because it was going to take so long to build a good reputation? What if we never became a Christian because we knew it was going to take a while to strengthen our faith to where we want it to be. Don't let a little time and effort keep you from living the life God has planned for you.
Questions:
What are some things you remember not being able to do that you do all of the time now?
Why do you think it feels so good to do something we couldn't do before?
Read 1st Corinthians 13:11 again. What sort of "childish ways" do you think we have to give up sometimes in order to grow stronger?