Did you know that Jim Bakker had an amusement park?
You'll have to excuse me on my lack of 80's televangelist history knowledge.
Back in 1986, Jim and Tammy Faye Bakker's Heritage USA was the third most visited amusement park in the United States, falling only behind Disney's two destinations — Disney World and Disneyland
According to i09:
Heritage USA opened in Fort Mill, SC, in 1978, and by the mid-eighties drew in six million visitors each year. The park was perhaps best-known for "Jerry's Slide," a 163-foot water slide that Falwell slid down in his suit, resulting in one of the most famous photographs of the televangelist.
Here's the famous photo:
Jerry Falwell had promised he would go down the Typhoon water-slide if, 1,000 people donated $1,000 to the financially faltering PTL. As you can see, the marketing plan worked and he took the plunge. This might have been his first plunge, but it certainly wasn't his last.
The "slides and fairy tale castle were, in part, responsible for Falwell's downfall. After scandals regarding Falwell's fundraising efforts to build the park's never-completed hotel and the IRS's revocation of its tax-exempt status, Heritage USA was hit by another, more physical blow. Hurricane Hugo wreaked havoc on the park's buildings in 1989, and Heritage closed for good shortly afterward."
Here's what Heritage looks like today: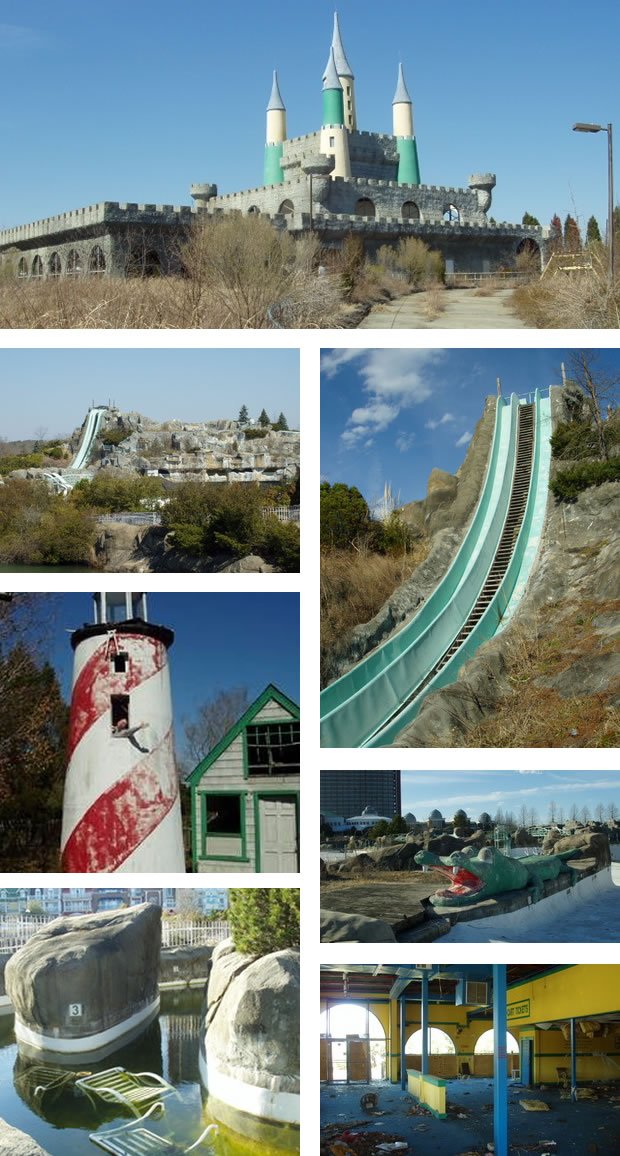 I don't know all the details surrounding the Heritage USA park, but I do know that as I survey the ruins, I see money used and wasted. Bakker could have built an orphanage or saved starving children, but instead, he built a fun park. This is the furthest thing from Kingdom living.
The same thing can happen to Christian generated media. We see it happen in the music business and the same can happen to film, web, etc … Offering the same product as the world and slapping the word "Christian" on it is nothing but labeling and does nothing to change the contents.
Seeing these ruins is a warning to myself (and I hope for you, too). What am I building? What am I creating? What is my drive? What are the contents of my medium? What do these ingredients yield?
This doesn't mean I forfeit fun. This doesn't mean I cut-off cool. This doesn't mean I lose my edge.
This means I need to honestly survey my motivation, check my course, and move forward in Christ.
Carry on.
[Images via i09]