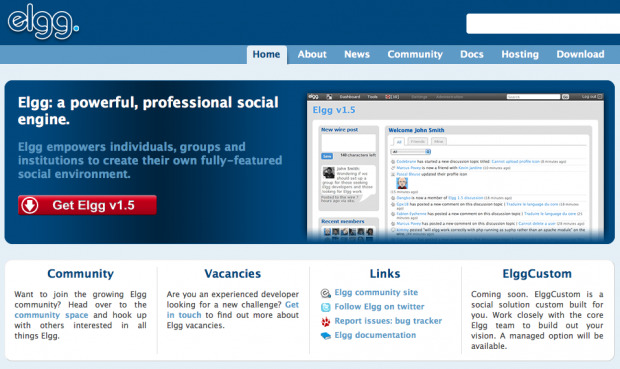 Wow. This will be the 3rd Open Source Social Networking platform that I blog about today (see the previous 2 posts), and it won't be the last!
Elgg.org is another great PHP/mySQL-based Open Source Social Networking Platform that may be a good alternative to the many others out there.
Completely customizable with a robust feature-list, it's a pretty mature product that's been out for a while.
Features include Activity Streams, Profiles, Notifications, Groups, Blogs, Media, Files, The Wire, Pages, Social Bookmarking, RSS, Open ID support, Mobile Application Dev, Plugins, Widgets, and more.
From my experience, the interface is pretty clean and getting things started wasn't too hard. It can be a little daunting at first though, but spending some time in the backend will reap a quick return and reward.
If you're willing to wait (and don't want to roll your own on your own server) they will be offering a service model at Elgg.com (not Elgg.org).
Check it out and let me know what you think.