Remember this guy?
Sam Walton started Walmart with core beliefs and vision for a wholesome, American grown business. Walmart was about great customer service, products 'Made in America' and treating their employees well.
But, times have changed.
Do you remember these 'Made in the USA' signs and labels?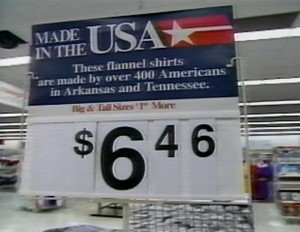 This was the early years of their boom while Sam Walton was still alive; fast forward 15-years, and this is what Walmart looks like:
This is a mix of success and failure.
Most would agree that Walmart has become a necessary evil for most Americans. In fact, even Walmart is beginning to understand the error of its ways as it attempts to bring back 'Made in America':

"… the giant retailer could play a part in the manufacturing rebound that is taking place in the U.S. with its promise to buy $50 billion more U.S. made goods over the next decade for its Walmart and Sam's Club stores.

Although $50 billion is a lot of goods, it's about 10% of what Walmart will sell this year at retail."
It would seem as though there was a shift in Walmart's vision and goals, leading to some ugly realities.
Church Tech
Church technologists can learn a lot from Walmart.
Driven so much by profits and customer demands, Walmart's decision makers changed their target. Their goals changed. Their vision transformed.
Many of us start out in Church tech very well intentioned. We have big hopes and dreams and a healthy vision. But as time goes by, demands weigh us down and our focus shifts, we're purchasing equipment that we don't need, looking to technology for all the answers and idolizing our gadgets and gizmos.
Knowing is Half the Battle
[Video via YouTube]
It's true, knowing is half the battle. Now, let's tackle the other half of the battle!
I propose we work together to craft a mission statement, a motto, a kind of vision for all Church Tech. Maybe it's a sentence, maybe it's a paragraph, so tell me:
What should be a part of the Church Tech motto or vision statement?
If we could craft something awesome, perhaps it will help us stay on track. The world is driven for the latest and greatest of everything. I think Church tech can challenge that paradigm. Care to try?
[Image via ZAmazon & Mac Rumors]