UNICEF, The United Nations Children's Fund, has developed a LEGO-inspired, multi-purpose disaster relief brick.
When enlarged to human scale, the unique design of  this giant LEGO brick allows it to function as both a way to transport food, and a building block for constructing real-life buildings.
The studs (official LEGO term for the "bumps" on top) of the brick unscrew and can be filled with vital supplies such as rice or water. Once empty, the same compartments can be filled with sand, and the life-size LEGO brick is now the perfect cornerstone for temporary shelters: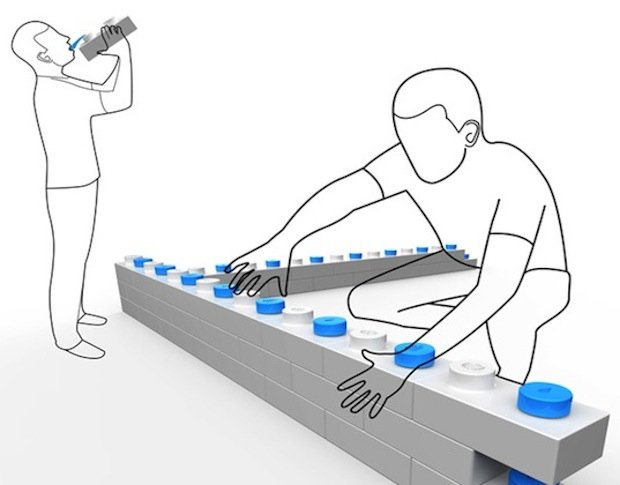 The bricks are also completely reusable, making disaster relief more environmentally friendly. What a great idea!
As I was looking for more information about the emergency aid bricks, I discovered that LEGO actually designed a UNICEF van back in 1985. According to LEGO Wikia, set #106 was a 56-piece free promotional item given away at LEGOLAND Denmark (the only LEGOLAND in the world at the time, there are now six) and was/is apparently very rare as a quick internet search turned up zero for sale online.
The toy company actually has a fascinating history dating all the way back to 1932. If you haven't seen it before, this very well done video LEGO released last year is well worth a few minutes of your time.
[via Inhabit and Reblickable]