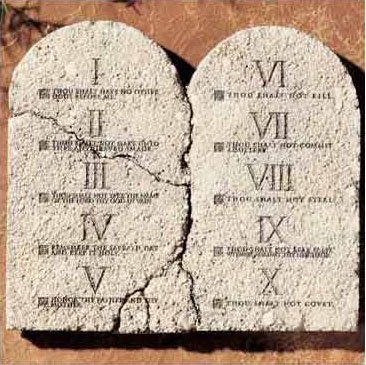 Twitter is a dangerous place, so make sure you stay on the straight-and-narrow by following the 10 Righteous Commandments of Twitter:
1. Thou Shalt Not Practice TTMI
It's quite possible that you're popping a zit before you head to class, but that's TTMI (Tweet Too Much Information), ok? Please save us from those types of tweets.
2. Thou Shalt Not Forgeteth Who's Following You
It's quite possible that you have your employer, your boss, your angry (and perhaps violent) ex following you on Twitter. Maybe even your mom. Don't forget who's following you or you'll pay a high price.
3. Thou Shalt Not Spammeth
Those that practice the deceitful art of spamming have a place reserved for them in the deepest bowels of hell. Don't do it for your sake and ours.
4. Thou Shalt Not Have Tweet Wars
Arguing over Twitter is perhaps the lamest of lame things to do besides being absolutely fruitless. Save those things for Facebook.
5. Thou Shalt Not Tweet What's Not Yours to Telleth
Some things are better left alone and it's not your job all the time to tell the world when something happens, especially if it's about someone else that doesn't want it tweeted.
6. Thou Shalt Not Tweet Boringnesseth
Don't be boring please, especially in series. Don't tweet things like "I'm prepping dinner!" "I'm setting the table!" "I'm sitting down to eat!" "I'm eating!" "I'm happy eating!" "I'm clearing the table!" "I'm washing the dishes!" "I'm putting the dishes away!" …
7. Thou Shalt Think Twice Beforeth Tweeting Controversy
Dogmatic screaming fringe-religious statements , Political rants, obviously-controversial situational-ethical viewpoints… that can hurt you badly and undo thousands of "goodwill" tweets. Please think twice.
8. Thou Shalt Not Tweet Spoilers
When Twitter asks "What Are You Doing?" that doesn't translate to "Tell the entire world who won the world series of poker" or "OMG!!!11111!1 _______________ won AMERICAN IDOL!" or "I can't believe _____________ happened at the end of ______________ movie!"
9. Thou Shalt Thinketh Before Tweeting
Just think before you tweet. Period.
10. Thou Shalt Tweet The 10 Commandments of Twitter
Please pass on the 10 Commandments of Twitter for your sake, our sake, and the twitterverse's sake.