Jumping on a viral trend is tempting, especially for brands. But you'd better know what you're doing, because trying to use a trend and failing spectacularly can hurt your brand big time.
Ask DiGiorno Pizza.
In September 2014, a Twitter trend started around the hashtag #WhyIStayed. It was a response to the Ray Rice case, the NFL player who assaulted his wife in an elevator. Tweeps were sharing real stories about domestic abuse and why they stayed, despite the violence. It was raw and vulnerable and powerful.
Then this happened: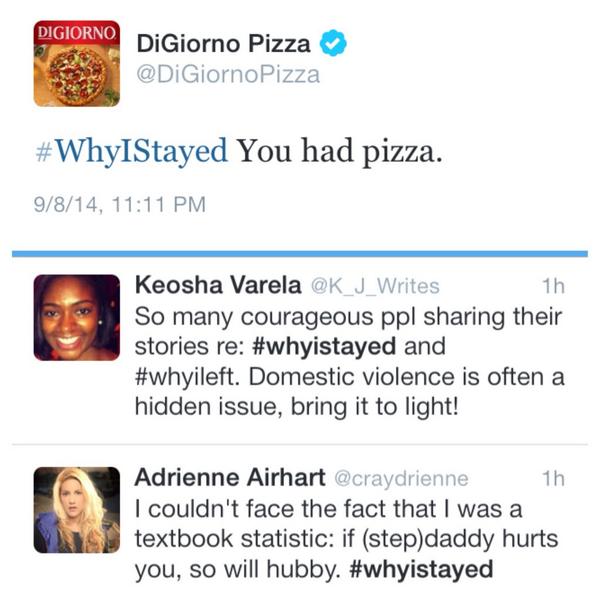 Ouch. DiGiorno didn't just fail, they failed spectacularly and the backlash was swift.
To their credit, they apologized. Not only that, they personally replied to everyone who tweeted them about this and kept apologizing profusely.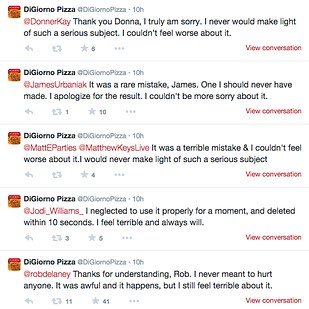 They're not the only one who tried to use a trend, only to get it wrong. Much less offensive, but equally failing, was Delta's attempt to congratulate the US Soccer team after its victory over Ghana in the World Cup in 2014. This is what Delta tweeted: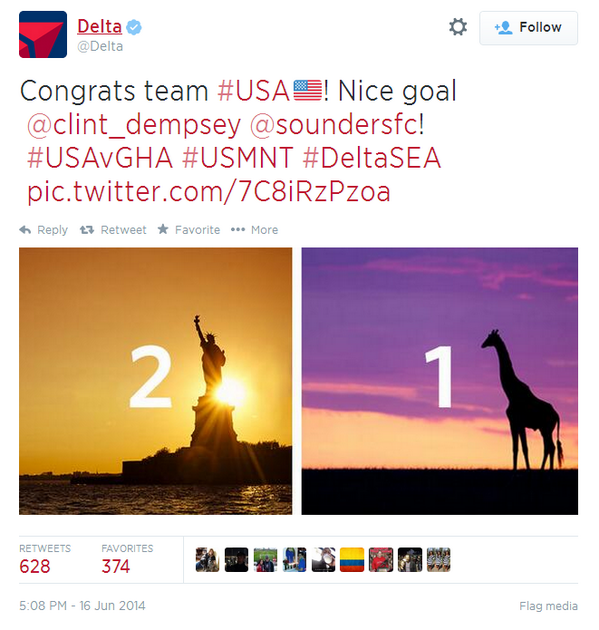 Maybe you're looking at this and thinking: What's the problem? Well, you see, Ghana doesn't have giraffes. And while that may not seem like a big deal, it does affirm any and all prejudices about Americans not knowing anything about Africa. Tweeps were quick to point out this mistake and Delta apologized…with a massive typo.
They got it right shortly after, but once again the damage was done. In their effort to capitalize on a trend, they made an embarrassing blunder; one that could easily have been avoided with a bit more research.
But my favorite social media fail with trying to jump on a trend, is this one. Remember #bendgate? Shortly after the iPhone 6 was released, users started complaining that the phone bent slightly, for instance after being 'stored' in a pocket. It was much ado about nothing, but competitors tried to use it to their advantage.
So LG tried to be funny and in itself, their tweet wasn't bad:
Nos smartphones ne se plient pas, ils sont naturellement incurvés;
In case you didn't take French in high school, that means something like: Our smart phones don't bend, they're naturally curvy. Of course they added a nice pic of LG's new model, the LG G flex, which is slightly bent.
But here's the kicker: They tweeted it from an iPhone.
Yes, the spokesperson who tweeted this tweet with the intent to bash Apple, tweeted from an iPhone. How's that for epic fail?
What We Can Learn
These are just three examples of brands and companies trying to use a trend to their advantage, only to see it backfire big time. There are countless examples, some even more horrifying and embarrassing than this one. What can we learn from these mistakes?
Investigate a trend before you jump on it. Make sure you know what it's about, how it started and if it fits your brand and image.
Do your research in what you're gonna tweet. The Delta faux pas could have been easily avoided if the spokesperson had taken the extra minute to check if a giraffe was an appropriate 'symbol' for Ghana.
Triple check your tweet for anything that others could possibly take offense at. And typos are so avoidable, really.
And last but not least: If you represent a brand, make sure you actually use it. Remember Nokia's blunder, who shot a commercial for their new phone with a 'real camera' and tried to pass it off as shot with the Nokia phone? The truth will come out. An LG rep simply cannot use an iPhone, as easy as that.
What other social media fails have you seen brands and companies make in trying to capitalize on a trend?
[DiGiorno story via Buzzfeed, Delta story via Buzzfeed, LG story via Business Insider]