SimplyNoise is exactly what it says: it's simply noise—white, pink, or brown.
Now, a few years ago, I would have wondered, "Why would anyone want noise?" But now that I'm older, wiser, and desperate for a quite place, I'm aware of the power that white noise can offer.
Many people find that noise, as opposed to music or spoken word, helps them to focus and drown out external noises and distractions. I'm not a huge fan of using noise to create a "cocoon of sound," but I can see how it might help some people.
SimplyNoise is a website and app (iOS and Android) that generates white, pink, and brown noise. (Not sure what all of that means? Neither am I, but thanks to ye ol' interwebs, I think that white noise has equal power in all frequencies, pink noise decreases 3dB for each succeeding octave, while brown noise decreases 6db for every octave succeeding octave.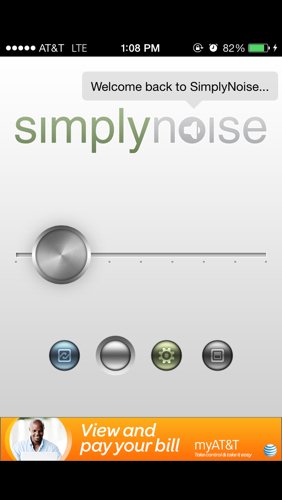 So, I'm not big on using noise to help me focus: I prefer Miles Davis and NoisyTyper. However, I was recently on my way back from visiting family in Pennsylvania and needed to sleep before driving the final leg of the trip back to Illinois. Podcasts were what I used to keep me awake, and I just didn't feel like listening to music. I needed something to help me focus on nothing. I just needed to sleep. That's where Simply Noise came in handy.
I powered up the free app ($.99 for the pink and brown noise among other features), set the volume, and turned on the "random oscillation" feature, which helped to mimic the oscillating fan I had in my bedroom as a child. At first, it seemed very odd to be listening to "noise," but it wasn't very long before I was fast asleep. SimplyNoise did its job and did it quite well.
It's a simple app with a simple premise. Anyone can use it. I love that there's a free version of the app, so that you can experiment before you get locked in. Of course, even if you do have "buyer's remorse," a dollar is a fairly small price to pay. Also in a display of goodwill, they offer all three noises, with oscillation, for free on their website. Can't beat that!
Do you use noise to help you focus?
Learn more and find the download links on the SimplyNoise website.
[via SimplyNoise.com | HT: @BrandonHarvey]