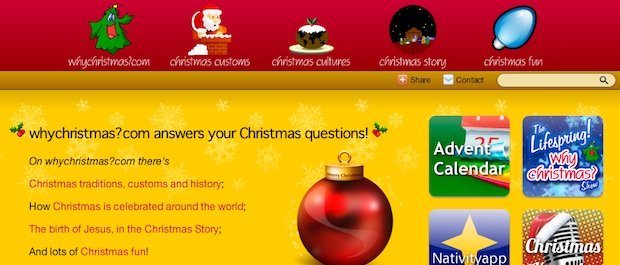 With the Christmas season on the way, we thought we'd do a series of the best online Christmas resources.
Let's start with the big Christmas information website "whychristmas?com."
Why Christmas answers your Christmas questions and has information on Christmas Traditions and Christmas Customs (like trees, cards, and the story of Santa); how Christmas is celebrated in different countries around the world (from Armenia to Zimbabwe); the history of the Christmas Story and an audio version of the Christmas Story, as well as lots of Christmas fun and games (you can decorate an online Christmas tree, build an online Nativity scene and even 'make a magi'!).
I love Christmas and started the site back in 2000 for some teacher friends as a child safe and friendly site that "wasn't trying to sell the kids something".
From there it's grown into one of the biggest Christmas information sites on the net (3 million pageloads in December 2010). There's still no ads on the site – something that makes it stand out from the crowd.
So if you, your kids, Church or school are needing a site with lots of info about all things Christmas then head on over to whychristmas?com!
[Image via whychristmas?com]