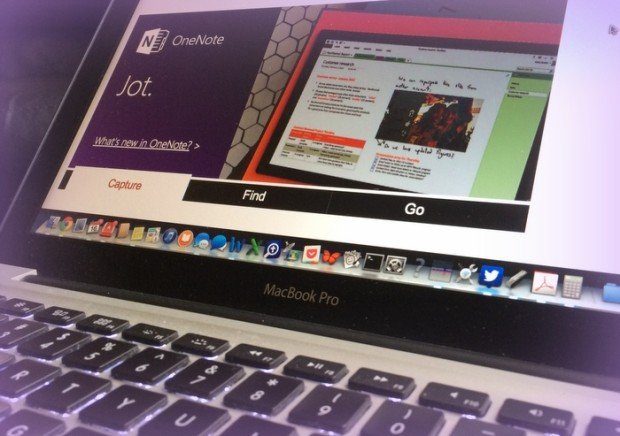 Update:
You asked for it, and #OneNote for Mac is HERE! Download it free in the App Store. http://t.co/EOKVAxJX9Y pic.twitter.com/0f575NM2dQ

— Microsoft OneNote (@msonenote) March 17, 2014
---
Tech & culture blog The Verge is reporting an inside scoop that Microsoft is about to announce the OneNote application for the Mac:
Microsoft is planning to release a OneNote for Mac app later this month. Sources familiar with Microsoft's plans tell The Verge that the Mac application is part of a broader effort to expand the features and functionality of OneNote. While Microsoft originally released OneNote more than 10 years ago, the company has largely limited its note-taking app to Windows.
This, of course, because of my recent loud lament in my Jan 15, 2014 ChurchMag  post: I Still Miss OneNote After My Switch to Mac.  Just kidding. I don't think we've that kind of klout around here. Plus, if the news proves true that the release is this month, Microsoft has obviously had this on the roadmap for a while.
What's great is the big response out there: 195 comments so far on the Verge news post, and nearly every tech blog (from Ars Technica  to ZDnet — see what I did there?) covered the news leak. I can feel justified that I've got company in championing OneNote as one of my favorite productivity tools for life and ministry work alike.
The curious part is probably the report the Microsoft is planning to give OneNote away for free — changing the Windows version to a no-charge version as well. Until now the application has been part of the Microsoft Office license or available for purchase on its own for about $50. The reporting is that this is to capture market share from Evernote, but there has to be more to it than that. Do they think the user data will be good for ads? Will some functionality be limited to paid upgrades?  We'll wait and see.
For now, I think the Microsoft Office home page is going to be a daily stop for me. Not that I'm eager or anything.
Learn more on the OneNote website and download it straight from the Mac App Store.