"Magic."
"Seamless. Literally void of any stitches."
"Able to survive up to thirty minutes out of water."
These are just a few of the ways that fans and reviewers are saying about the XKCD Phone 6—the single greatest phone to never be invented.
Check out this product poster straight from the XKCD Art Department: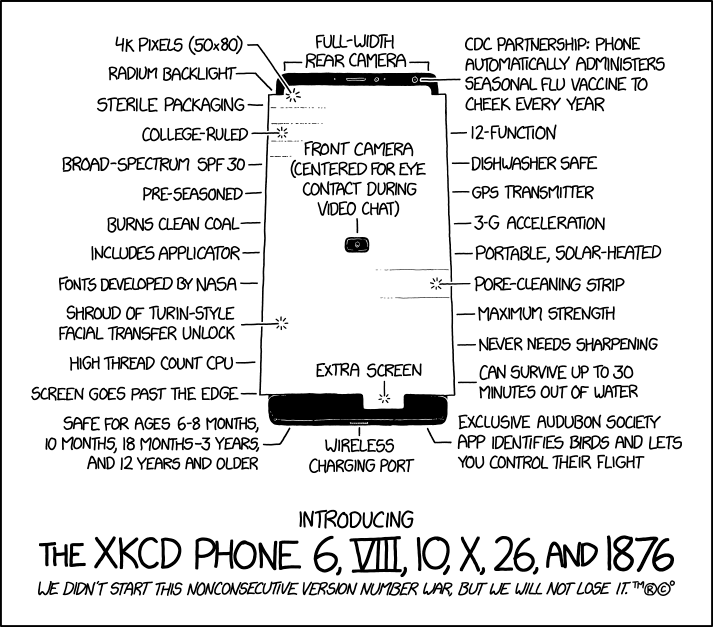 Now, obviously, this is a joke from the incomparably sarcastic Randall Munroe and his webcomic XKCD, but, as is the case with a lot of Randall's comics, I think there's a real lesson here.
The lesson of "one more thing."
The Curse of "One more thing…"
Thanks to Steve Jobs "One more thing…" moments and Apple's product release cycle, we have now this obsession with what's next: which product will come next, which features will be added, and what major innovations will be revealed.
This isn't healthy. We cannot enjoy what we have because we're constantly stuck on what's coming up. We've fallen under not just the draw of the "one more thing" but the "horror of the Same Old Thing," as which C.S. Lewis described through the mouth of Screwtape:
The horror of the Same Old Thing is one of the most valuable passions we have produced in the human heart—an endless source of heresies in religion, folly in counsel, infidelity in marriage, and inconstancy in friendship.
Commercialism, "Onemoreism"–Call it what you want, it's demonic. Satisfaction, ultimate, true satisfaction only comes from God. Now, note that word "through." Prayer does not fill my stomach. That doesn't make me less spiritual that you, by the way. It's because my stomach was designed for food. Not prayer. Our state as created beings demands that we require sustenance and support from outside of ourselves. We were created to need because that's the very nature of the created order: only God the Creator is entirely satisfied within Himself. We need and were made to need.
The problem isn't need; it's desire.
"…but each person is tempted when they are dragged away by their own evil desire and enticed." James 1:14
Desire itself isn't evil, but an "evil desire" is a desire that's gone well past the need that prompts it. I may be in need of food, and I may desire pizza to fulfill my need of hunger. But when I eat an entire large pizza, I have fulfilled a desire that went beyond my need and have sinned through gluttony.
We need technology to serve us as tools, but when we salivate over the continual flood of the new, when we take in a new device only to spit it out with disdain six months later, we commit the sin of gluttony. The same could be said for how some people are constantly upgrading their cars, houses, jobs, and even spouses.
Now, I mentioned earlier that prayer doesn't feed me, but I want to be clear about something: God does feed me. Now, He doesn't shop for me, cook for me, nor does He send ravens to my house with bread. What He does do is provide a job for me, a means, if not the actual end. I feel sort of sick saying that because there are those who know and love God who don't have jobs, who don't live in countries where peace and prosperity is the order of the day. Does God provide for them? I don't know, but I wonder if, for them, God's plan is for us to be the means to that end.
But when we when up tithing to Apple or Samsung, we pull ourselves out of God's plan and others suffer.
I am not saying that we cannot own devices, but I'm worried that our devices have begun to own us, if I can paraphrase the great AW Tozer. Sadly, I think that gluttony has been backed into American culture so deeply that it's no longer bug but a feature.
Conclusion
Russell can make fun of the iPhone with his XKCD Phone and it lands so well because he's really making fun of us and our obsession over the details of every single device release. It's a little sick, a little evil, and very pathetic that a little glass rectangle can bring us to such hysterics. Am I interested in phone releases? Yes. Am I constantly refreshing the Apple Store page to see when everything's live? Nope. Because my sufficiency has to come from God. My phone is only a tool, a subservient, inanimate lump that requires me. I do not truly require it.
But when we get that mixed up, when the phone becomes an idol, with the desire for the newest and shiniest outweighing any rational need for the tool, we've fallen very neatly into the devil's hands.
Excited about the facial recognition? Great. Like the edge-to-edge screen? Awesome. That's not my point.
The devil isn't the in the details of Apple's new phone: he's in our obsession over it.
If you like the XKCD Phone 6, you might also like its predecessors: