If you have not been following the news, Facebook has been quietly making some changes to their platform beyond the security issues. For many, these are actually much needed for any forum type online area. The fact they are only just now coming out is absurd, but that Facebook seems to be the innovator with them is great.
What are you talking about Jeremy? What updates?
As I said, it's been quiet with the updates. But these two new ones are something that Facebook Group Admins should know about to help foster community and civility.
1. Admins Able To Quietly Work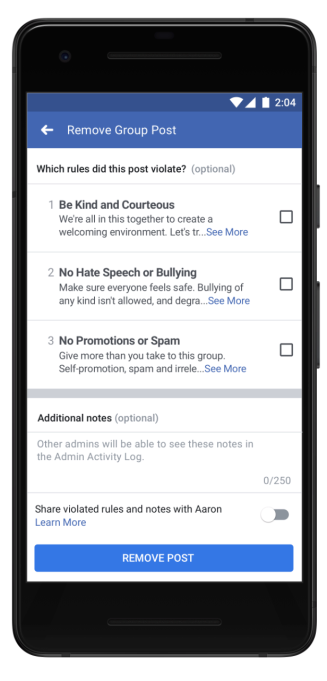 Before (and still the only way to do it in Google+ or other group forums) if someone made a post in your group that was self-promoting and against the group's self-defined policies of mis-posting, you have to be very public about it. Unless you are a jerk, you leave a comment on the post, telling the user that their post violates the group's policy and to please remove it. They still get advertising time while you wait to see if they delete it and you look like a meanie.
Now Facebook will allow group admins and moderators to notify someone when their post gets pulled down which group rule they broke that caused its removal. They'll also be able to collaborate with other admins and moderators by adding notes in an activity log when they remove a post.
AKA, no more being a jerk!
Church Facebook group admins, use this to its full advantage. It's not our job to put people on blast, but it is our job to do our best to moderate and foster a healthy dialogue in our little communities we have.
2. Preapprove Posts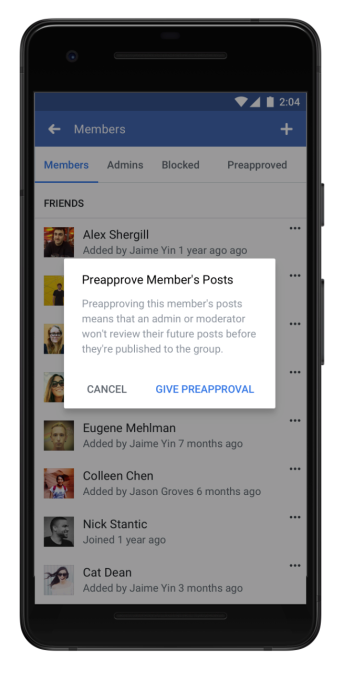 While this is not something we will do in our ChurchMag Facebook group, you now can set posting activities to need to be preapproved instead of auto-posting. This required a highly involved admin team to check, even if it is in the middle of the night or else posts will sit there for hours or days and will definitely lose engagement. That being said, this will save admins time by not having to moderate content from trusted people.
Of course, this doesn't even include the new Facebook Group questions that ChurchMag has started to use too.
What do you think of the new Facebook group tools and features? Does this change your thoughts on Facebook as a whole?
[Images via TechCrunch]