[ Be sure to read more from the Design Basics series. ]
One of the roles of design is to bring clarity to the message,and one of the ways we do this is through alignment.
Aligning elements to a grid can be a great way to bring order and structure to your design, and also provide a framework for you to break out and make things look different. Grid-based design can sometimes get a bad wrap for being too ordered, and lacking creativity, but I hope you will see the great value in using grids as a starting point.
Give the Brain a Break
Whenever you look at something, your brain is working behind the scenes to process it into information. There are some things that make that processing easier and alignment is one of those. Elements that are aligned together are processed as a group by the brain, tying them subconsciously together.
If you have elements that are sitting near each other and are nearly aligned (but not quite), it is almost always better to bring them into alignment to make it easier for the brain to group them together.
On Text Alignment
A short side note here on aligning text. If you have text longer than a couple of lines, then the best way to make it easy to read is to align it to the left without justification. Having each line of text start in the same place makes it much easier for the eye to move the next line, and not justifying the text means the spacing is consistent between words (which also aids readability).
On the Grid
Working to a grid is the next logical step from aligning elements. Aligning everything to the same left margin would look exceedingly boring. And placing elements all over the design can look haphazard and confusing. Working to a grid can be a happy medium.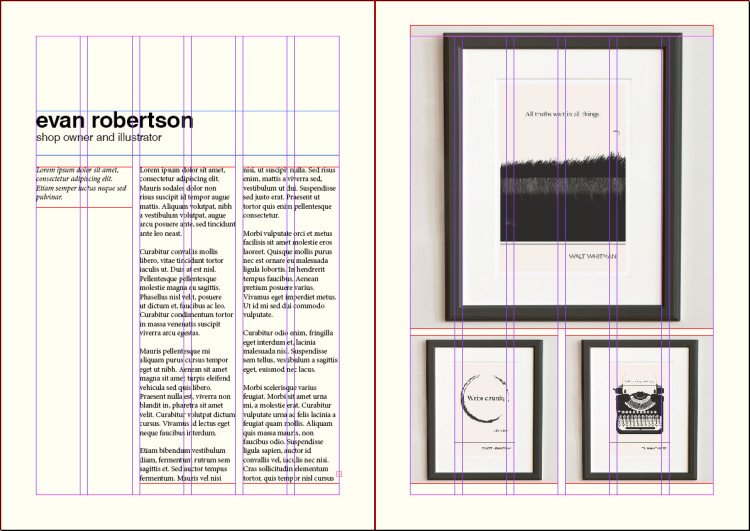 Generally a grid would start out as a few even width columns (with gutters between them) to set out the spacing of the design. They may also include horizontal guides to organize spacing as your eye works down the design.
As grids become more complex they can add extra columns, break them apart and become asymmetrical whilst still maintaining the overall structure.
Make the Rules to Break the Rules
Now for the fun bit. When most of your content is aligned nicely to a grid it means that having elements break out of the grid can be very eye catching.
Break the grid using imagery, pull-quotes or other calls-to-action and the eye will be drawn to those elements as they are sitting outside of the overall structure.
Breaking the vertical rhythm can also draw more attention to words/images by giving them more room to breath—drawing the eye towards them. At the end of the day you are looking to define a structure/order and ten subvert it to draw attention.
Start Experimenting
Working with grids an alignment could be a great tool to add to your design arsenal, so why not start experimenting. And if you've had success with making and breaking the grid in designs for your church—drop us a line in the comments to show us what you've done!
[ Be sure to read more from the Design Basics series. ]