I love my Kindle (with Keyboard), but it hasn't received as much use during my graduate school studies because my highlights and notes were trapped in the Kindle in a useless little file called "My Clippings."
Well, that file is useless no longer!
Meet ClippingsConverter
ClippingsConverter allows you to upload your My Clippings file so that it can be separated by book and then exported to Excel ('03 and '07), Word ('03), PDF, and (drumroll, please) Evernote!
To quote their website:
ClippingsConverter lets you organize the annotations you make on your Kindle, export your clippings to Excel, Word and PDF and integrate with third party services such as Evernote….We allow you to browse, search and tag your clippings with our easy to use website. Rest assured your clippings are safely backed up online.
Doesn't that sound awesome?! This is the exact kind of service that I need for my graduate research, but also—and more importantly—for my sermon preparation. As a pastor, nothing is more frustrating that knowing that you've read something that would fit perfectly into your sermon but not being able to remember what book you read it in or even on what page in that book it was located. Sure, you can keep paper notes on digital books, but doesn't that sort of defeat the point?
Using ClippingsConverter lets you annotate and highlight your Kindle book, upload the clippings file, and then put those notes into a number of useful formats.
Check it out: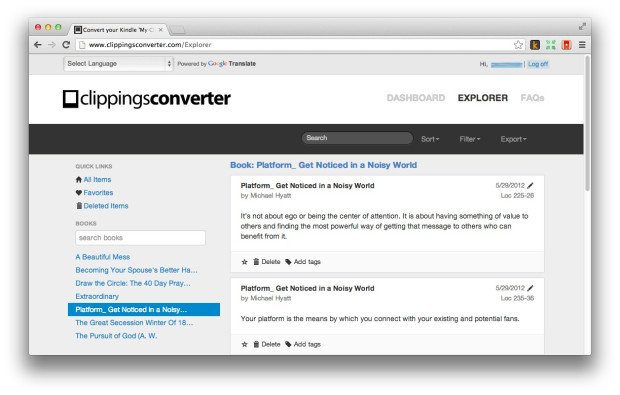 The one bit of bad news is that the Kindle Fire and the Fire HD along with any Kindle apps aren't supported because they don't make "My Clippings" files, so you can hardly blame ClippingsConverter for that.
Now, for the best part of this whole deal: ClippingsConverter is a free service!
Visit ClippingsConverter.com and get your free account today!
Do you have a Kindle?
How do you make use of your highlights and notes?
[HT @Pete_McM in response to @MichaelHyatt and @kevin_monroe]