For years, I was the church sound person.* Now, I'm a staff pastor. I feel like this gives me a helpful perspective on church tech, having seen it from the inside and now the outside. This has helped me write a lot about how to do church tech, but I think it's time to discuss how we organize and staff the tech team. So, let's start with the Sunday morning, or 'in-service' tech team and figure out who should be in each role, and how they should go about fulfilling the requirements of that role.
Here's a simple flow chart to help you visualize my team's hierarchy. As you can see, we have five positions: pastor, director, sound, screens, and lights.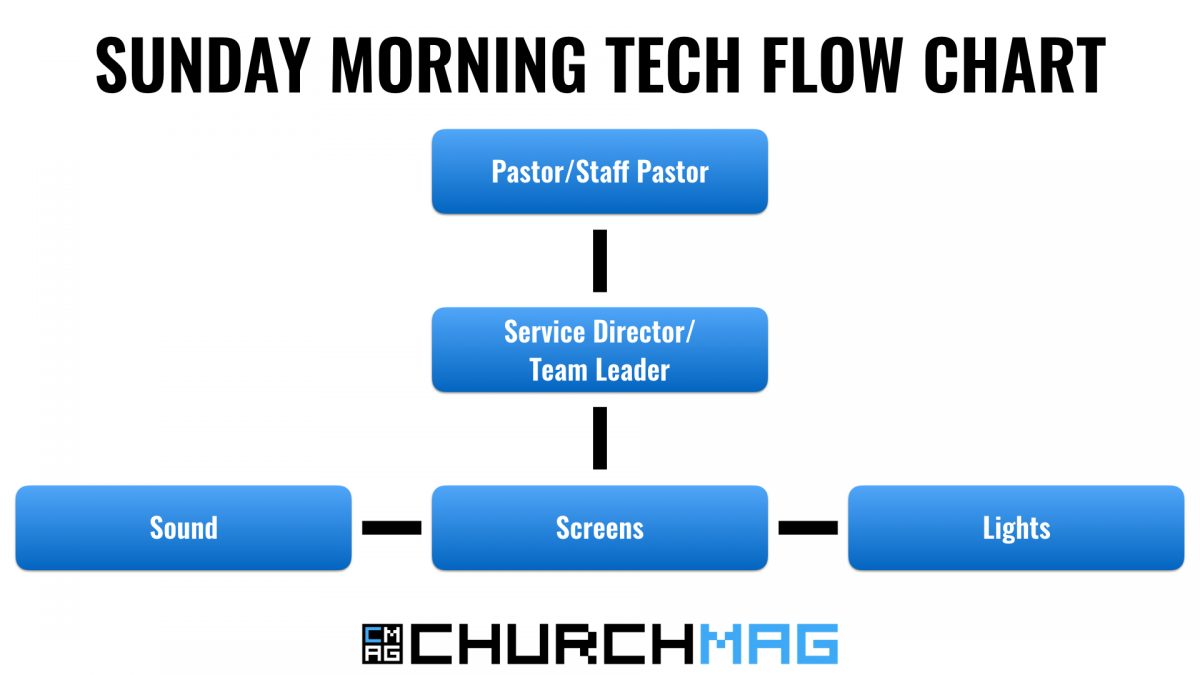 Now, this is not a one-size-fits-all-churches type post. In your context, one person might fulfill two different roles, and that's fine. That's actually how it is in my church. Our team leader is the sound person, and our screens are run by the same person who runs the lighting.
Plus, we have a live stream position, which I didn't include at this time because I felt like that position is still a bit of a novelty. But if I'm wrong, let me know in the comments, and I'll write it up.
Back to our hierarchy, it's key to make clear that this is not a representation of importance. Rather, it's designed to show the flow of vision. Yes, it does reflect the flow of authority and responsibility as well, but in the Kingdom, every person and every role is of equal worth.
Sure, some positions and some people have more responsibility and more authority (i.e. the pastor), but as someone in one of those positions, let confess that there is no way I could do what I do without the whole team working together. Everyone's valuable. Everyone's important. Ok? So now, let's describe the job of the pastor with regard to the Sunday morning tech team.
Position: Pastor
Key Area of Responsibility
Cast the vision for the church, as led by God
Communicate to the tech team how each Sunday service helps to accomplish that vision
Lead the Sunday service so that God can do His work
Summary: Pastor, as God's chosen leader in the church, it's your job to lead the church. If God's given you a vision for His church, cast it! And then help all of your volunteer teams see how their work supports that vision. If you don't have a vision or their work doesn't support the vision…well, then, email me. We need to talk.
And while we are on that subject, pastors, please hear this: you need to communicate more. You might think that your teams know what they need to know about the big picture stuff, but you'd be surprised. Communication is going to a recurring theme in this job description, so please just get the clue here at the beginning.
Specific Weekly Responsibilities
Create a service order/checklist to help the tech team plan for the service.
Communicate with the service leader/team director to ensure that the service order is clear and that they have had a chance to ask any questions they might have.
Pray for your volunteers. You get paid. They get blamed when things go wrong. They need your prayers.
Summary: Service orders are not the enemy of the Holy Spirit. The service order is what you're going to do until God makes His plan manifest. If God wants to change things up, then change them up! Service orders give your volunteers some much needed clarity and peace of mind.
Also, make sure that your service order is explained to the team leader. You'd be shocked how unclear your shorthand can be to someone who hasn't been invited to your internal conversations.
Plus, you really need to make sure that your worship team keeps the tech team updated about any potential song changes. Not doing so could be setting up a crisis.
Requisite Skills
Clear communicator, able to present expectations in a firm but encouraging manner
Organized, able to anticipate potential areas of confusion in planning a service
Able to routinely, authentically express appreciation for the service others
Overall Expectations
Cast the vision, tie it to the volunteer's work
Communicate the plan
Appreciate the sacrifice of others
There's nothing truly revolutionary here. Most pastors are at least somewhat aware of all of this. It's simply a matter of making it a part of your weekly planning and part of your church culture.
Pastors, you can't complain that the video clip—The Matrix? Still?—wasn't played at the exact right moment in your sermon if you didn't prep the team. Do your job so that they can do theirs. It will make your job that much easier.
We'd like to make these descriptions even more helpful to the Church, so if you see something I've missed please comment with a suggestion. Maybe, when we're all said and done, we'll be able to compile all of these descriptions into a nice little PDF for you all to download.
Next time, we'll look at the tech team leader. Until then, keep on doing whatever you do to make each Sunday life-changing.
*I'm going to try very hard to not use the traditional "sound guy" because it feels gendered, and I want to be inclusive of women.