This post is the second in a series about forming a Sunday in-service tech or production team as some call them. Feel free to read on, but you might like to start at the beginning. Previously, we discussed the role of the pastor. You might want to start there.
"Every team has a leader. Every good team has a good leader." This is not revolutionary teaching or a newly discovered dynamic. This is obvious. It's the reason The Avengers were quickly disassembled in the first movie. Teams need leaders. It's that simple.
And yet, so many churches do not have a set tech team leader. Sometimes, the worship leader is in charge, but this is a poor substitute for a team leader as the worship leader is leading worship when the production team taking care of some of the in-service tech. The leader needs to be leading the team, so I'm not a fan of the worship leader being in charge.
It's a generalization—verified by my experiences—but a lot of tech teams are made up of introverts or non-confrontational extroverts. So it's hard for one member to correct or direct another team member. Also, the team leader should not be bogged down with an in-service task.
They need to be watching the service order, the cues, running interference with any issues, etc. Team leaders should function as stage managers, helping to direct the service to ensure clarity, quality, and a distraction-free environment for people to hear God's Word and be directed by His Spirit.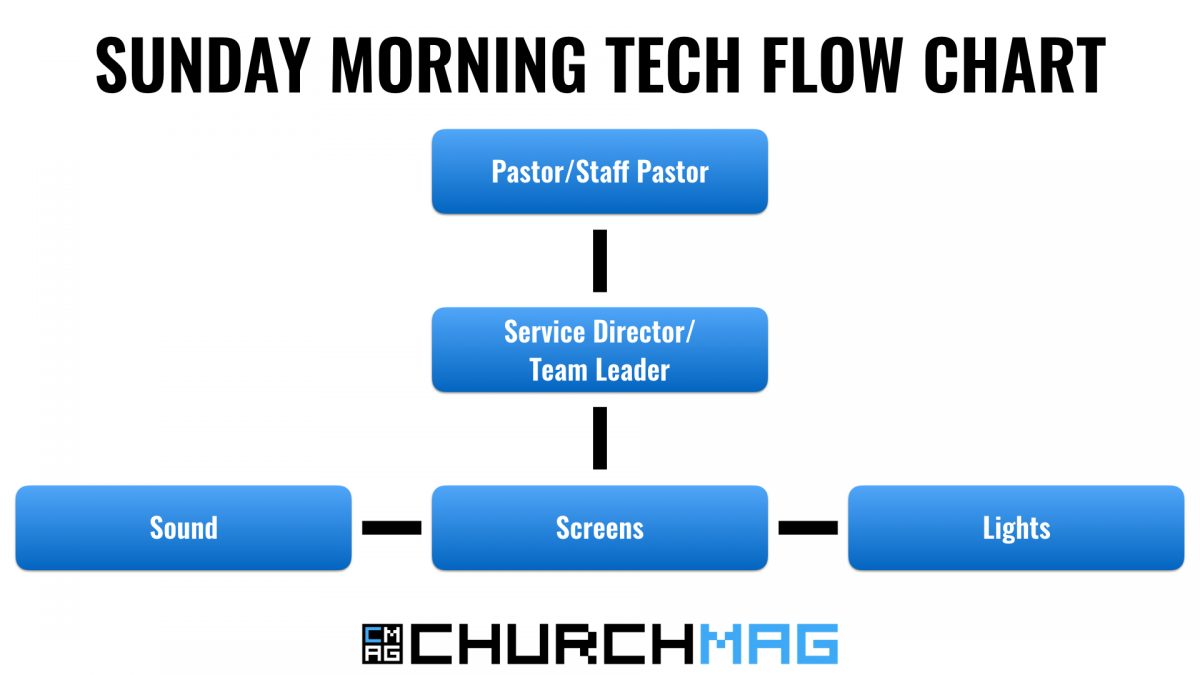 Position: Team Leader
Key Area of Responsibility
Be the team liaison with the pastoral staff
Planning – scheduling, budgeting, long-term ministry goals
Stage manager for Sunday morning worship
Summary: The team leader needs to be the hub for everything tech. They are in charge of scheduling, communicating with the pastor, budgeting—if appropriate in your church context. They need to be, in short, responsible for the tech team overall, as well as week-to-week. If this is done well, the tech team can flourish, the pastor's plate can be kept free of tasks best handled by others, and the Sunday service can be done with excellence.
Specific Weekly Responsibilities
Pass on to the team the vision / plan for the Sunday service as communicated from the pastor
Team scheduling, in consultation with the pastor
Supervise the technical components of the Sunday service to ensure a good service
Offer suggestions / corrections to team members
Summary: I'm sure that there are some who think that all of this is overkill, and maybe it is. It's certainly a very Western Church-centric way of looking at the needs of the church on a Sunday morning. Yet, at the same time, excellence is a cultural construct, so a Western-style church is going to offer excellence in their worship to God and in providing a distraction-free environment for worshipers, this position and these responsibilities make sense.
Communication is key in preventing mistakes, misunderstandings, and also hurt feelings. How many volunteers have felt unwanted or unvalued due to a lack of good communication? A throng, let me assure you. At the same time, scheduling done from inside a ministry is always better than done from outside.
A team leader knows who works well together, who doesn't get along, and who gets along a little too well—can't have folks chatting too much during the sermon! The last bit here, on correction, is a though one. How do you correct someone who is giving up their time for no compensation?
You do it carefully, out of a place of love and encouragement. Correcting someone is the means by which we build them up. We all need direction, correction, and encouragement. Let's empower our people to do the work of loving each other.
Requisite Skills
Clear communicator, able to pass on the words of others without muddying the message
Organized, able to plan for equipment and training expenses, able to schedule multiple team iterations
Able to routinely, lovingly offering corrections to team members as a way to build them up
Knowledge of and ability to operate in any of the roles of the tech team to better facilitate correcting / training team members
Summary: The leader has to lead by example. They can't correct the screen operator for missing a cue if they did not do a thorough job of communicating where that cue would be and what it would look like. The leader cannot help to resolve conflicts between team members if they are one of the people in the middle of these conflicts.
Leaders must stand above, not in a vaulted position of superiority, but in a position of humble authority. They must exercise this authority out of concern for each member of the team's spiritual well-being along with concern for the team's ability to aid the church in facilitating the worship of God and hearing the message.
Overall Expectations
Unite the tech team in line with the vision of the church
Lead, direct, correct, encourage
The tech team, when being effective, is almost never noticed. Success for them is produce a service that is free of distraction so that focus is on God, either in worship, hearing His word, or responding to that word in prayer. It is essentially a thankless job. No one sees you; no one even thinks about you, until you mess up. The team leader knows this and steels his or her team against discouragement.
He or she serves by enabling others to serve, by caring for his or her team so that they can accomplish their mission. (To help with caring for your team, might I recommend a team devotional?) The leader should know how to do each team member's job, not so that they get bogged down by micromanaging, but so that they can help to develop the skills and talents of their team members as they do the work. The tech team is a valuable ministry; having a quality team leader only makes that value more apparent.