My eBook By The Numbers has been out for more than two months now and I wanted to start to show off more of the creative outcome that comes with this study.
I've looked at nearly 10,000 church Facebook posts and have seen a lot of great ideas and designs for churches.
Below is a sample and brief description of what I saw in each of these Facebook posts from four different churches:
NewSpring Church
The focus of this post is that it is a blog article and right now Facebook does give less emphasis to this article. What I love about it is that they are showing off their brand with a massively beautiful logo in their image which is simply captivating.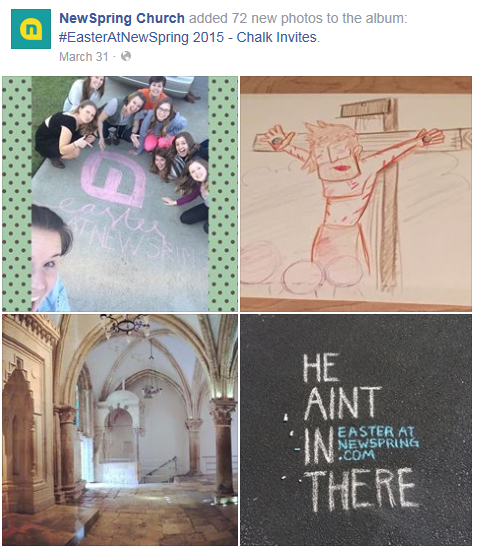 NewSpring understands how digital outreach and be fully used. They start with IRL invites, post it online and let it soar. What you don't see here is that in the comments are hundreds more pictures in their comments from their fans who are also doing sidewalk chalk outreach, all because of a Facebook post!
If you are new to NewSpring and don't know the culture or how they do sermons, you may wonder if you will mess with their message. This video not only shows off the text of their next sermon, but also have a gorgeous video to go with it and share the illustrative culture they give.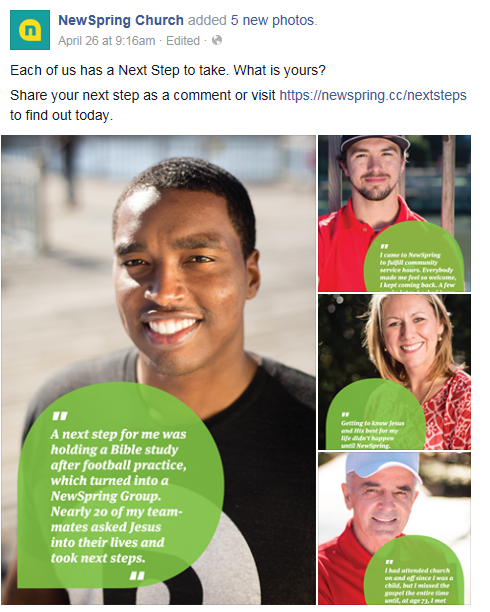 If you need content, go to the one source that is untapped and ask for what is happening in your church. NewSpring does that and then makes it so visually appealing that I am immediately stealing it.
North Point Community Church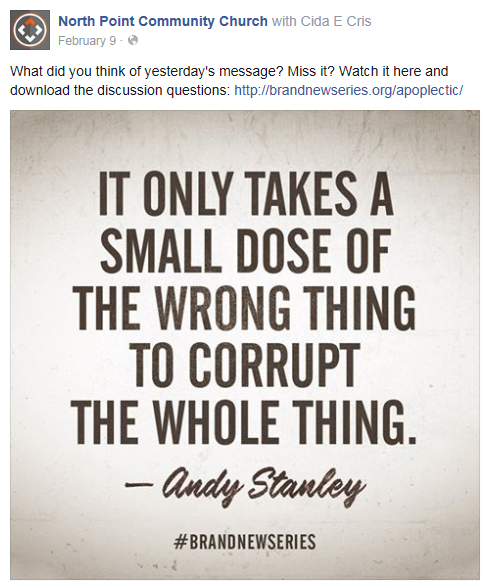 Everyone loves a great quote and they get shared all of the time. Why not put your pastor's quotes from the sermon and show them off before or after Sunday. Then your congregation can share to their heart's content.
An invite for a special Sunday is important, but what North Point does that is not only simple and elegant, but focuses on the point is truly remarkable. Truly these type of photos are going to be shared and inspiring.
I appreciate a good marketing post, but North Point's need to focus on people is so refreshing. Above you see just a sampling of people worshiping, smiling, and in community is where it is at. Emulate this well.
Behind-the-scenes posts not only honor your volunteers when they do not get recognition from upfront, but it gives a full look at what it takes to do ministry well. Plus, this post sings to my church tech heart.
Willow Creek Community Church
You want to know how amazing Willow Creek is on Sunday? See a vignette of their capacity that shows your church how to shine and let your fan base share it with their friends as an outreach digitally.
The focus is on the Scripture which is nice, but the hashtag that is consistent through several posts creates a digital tie in which is beautiful. On top of this, it makes for a quick template that can be repurposed over and over again.
I love minimalism and great design. This hits both. How many more days till Easter? And if your congregation shares the image with others, this may influence where they go to church this next event.
A blog series that is a digital devotional for your church is nice, but when you have it shared so well on Facebook, it is just more great content. Allow these to just pepper your digital presences.
Church of the Highlands
churchofthehighlands.com
Facebook Page
What do you see when you look at this post? I see a volunteer that loves their job. I see a place I want to serve too. I see a congregation that enjoys where they are.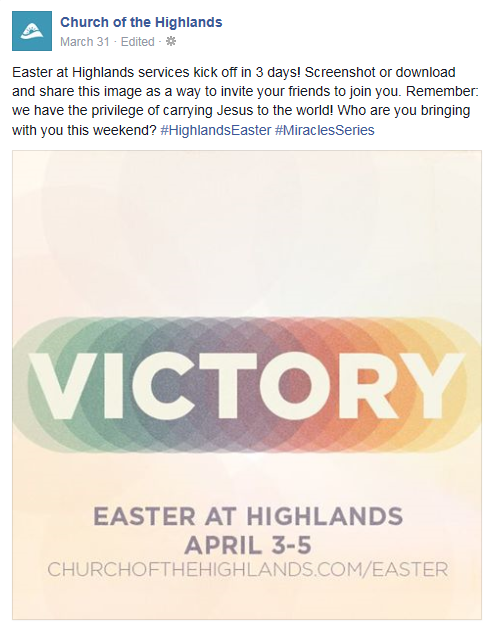 The sermon title is simple, the date is displayed, and more information is provided if anyone ever reshares the post. That means you can be sure people will have the information. Duplicate this over and over.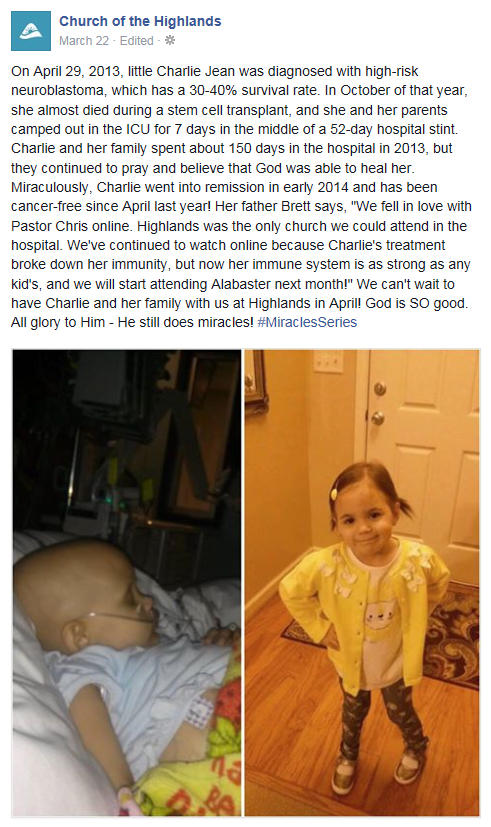 Seriously? Having prayer requests on Facebook? This may be the most powerful thing you can do for your congregation. Drop marketing tactics right now. Look at the spiritual implications of this? I prayed for this girl and I don't even go here.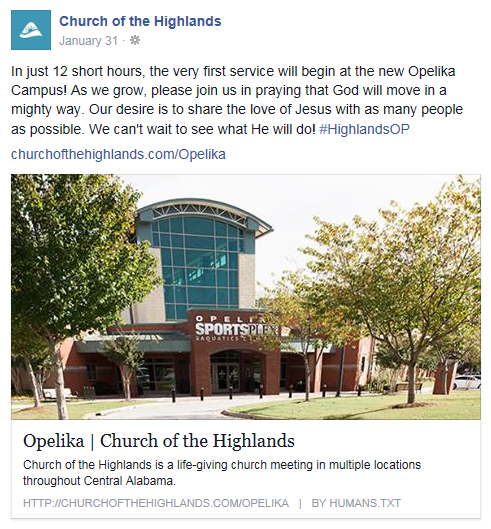 Church of the Highlands launched a new campus. A post on Facebook means they are showing off what is new and exciting. But is also shows growth for their church which is encouraging and influential. This sings to my heart and if I am looking for a church in Alabama to attend, I'll probably pick this one for this very post.
What posts did you love from the 16 above?