Thirty-one. Besides being the number of the ideal woman—get it? (Proverbs 31)—thirty-one is also my age. Yes, that's right: I'm old.
And as such, I've moved beyond youth ministry, and yet I still have a deep passion for reaching young people and an enduring respect for those who still bear the calling to reach them. And because I respect youth ministers so much, I'd like to offer a bit of help with your website.
But first, a story!
Blessed Exposition & Explanation
Recently, a youth ministry friend of mine asked me to build him a website. (Incidentally, he's older, wiser, and much cooler than I am, the former being why he's still in youth ministry.) We sat down, discussed a few ideas, he sent me a theme he liked, and I went to work.
Now, you might be wondering why anyone in youth ministry would bother with having a website when social media is where all the students. That's honestly a great point, but here's the push-back: a website serves as both an official digital address—with a better "address" (URL) than what you'd get through social media—and an official information hub. I'll explain more in a bit when we discuss how to combine your social media and website into a digital empire, but first, design!
Design Tips
When designing your youth group website, I think that simplicity should be the unifying, core concept. A simple design can be incredibly attractive, but it's almost definitely going to be easy to navigate as well. "But aren't students tech-savvy? Why does it need to be easy to navigate?" First of all, the "tech-savvy" student is a bit of a myth. I'm tech-savvy; my students are app-savvy. Those skills aren't the same. Secondly, a website isn't just for the students: it's for their parents/guardians as well. Plus, depending on how you do things, your website is your digital face to the outside community. If you're doing some community fundraising or charity work, your website is going to be the first place people look for information about your ministry. With such a varied audience, simple is best.
To that end, I'd suggest a one-page layout for your landing page. If you want to do a blog section, that's fine, but I don't think that you should start there. I'd rather you add a photos/video section with stuff you upload to the site from your ministry or items showcased from your social media platforms.
Use a limited color scheme (two or three at the most) and don't overuse animations and effects (section slide-ins, hovers, parallax, etc.). That's not to say that you shouldn't have color or visuals. I'd just rather that the bigger bursts of color, your prime visual draws, be the candid and action shots of all the fun you have in your youth ministry.
Design Tools
What should you use to build your website? WordPress will always be my default answer because of its versatility, huge market share, and the fact that it can be expanded to do a lot more than just a website. Starting a new/first website? Just get the landing page going. Updating an old site? Maybe you should expand into a weekly blog post or even begin podcasting, with recordings of your sermons or weekly devotionals thoughts—either way, WordPress can handle all of that.
Let me back track for a second regarding blogging on a new youth group website. Devotional blogging could be put on the back burner for a while, but I'd make a blog post for every event you schedule. Firstly, it shows that you're active: this isn't a dead page for a defunct or lazy ministry. Secondly, if parents are headed to your site, it's to find out when the lock-in is or how much camp will cost.
Now, regarding the design of your WordPress site—and it better be WP!—you should spring for a high quality theme. Churchthemes.com [affiliate link] has two really sweet themes (Resurrect and Exodus) that are designed specifically for churches, and I've also really been impressed with the themes put out by StudioPress [affiliate link], which are built upon the Genesis Framework. (Incidentally, ChurchMag uses a StudioPress theme.) For my own church website, we used Divi 2.0 from Elegant Themes because our church already had an account with ET, though I personally find them to be rather inelegant.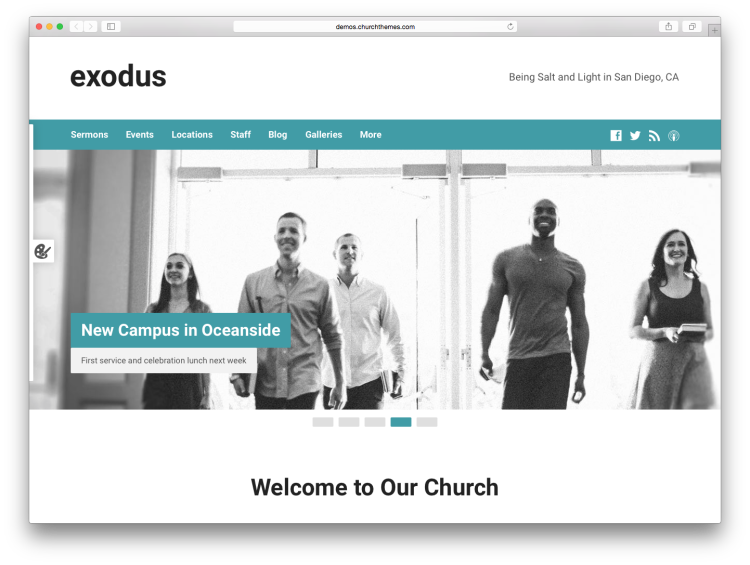 From there, I think the biggest factor to your website's success is it's unity with your social media platforms. Make sure that everything that gets posted to your website (via the blogging component). This can be easily handled via the Jetpack plugin, which comes standard with every WordPress install, though you'll need a (free) WordPress.com account to activate it. I'd also get an account through Hootsuite or Buffer to help schedule social media posts, like when you want a link to an event to be shared right after your students get out of school, but you don't want to risk forgetting to share it on your own, or if you're having an event and want certain images or blurbs posted during said event and want that responsibility off your shoulders.
Next, I'd use plugins and widgets* to make sure you're social media accounts are linked on your site, meaning that there are little Twitter, Facebook, Instagram, etc… icons prominently and stylishly featured on your site. This is especially true of visual platforms like YouTube, Flickr, or Instagram. While these networks have very strong communities, they're also nice because, when displayed properly, anyone can enjoy them, whether they're logged into those sites or not.
As far as the "apps as tools" element, I'd use Polarfox to post images to your blog, Facebook Page, Group, and a bunch of other sites. Flickr and Instagram, however, require you to use their app to upload images from a mobile device. I'd also download the YouTube mobile app, if only to upload videos during a sweet activity or game or whatever.** That's a great way to create buzz and that "I wish I'd been there" sentiment. That's key. I'd definitely have the official app for all of your major social media networks downloaded and ready to go. Sometimes, the fancy stuff isn't the best.
Conclusion
This post is almost double what I usually write, and it's only a tiny bit of the information and thoughts behind this topic. That's why I thought that this would be a good place to stop and let you offer your thoughts, or, even better, let you ask questions.
So, let's here it. Give us your comments or questions about your youth group's web presence.
*There's a slight learning curve to WordPress, but it's minimal compared to other platforms that do similar things. Also, there's an enormous WordPress community with tons of tutorials that can help you through your design process.
**The added benefit of uploading nearly live videos like this is that you can tie in an IFTTT recipe that will automatically share you new YouTube uploads to your Facebook page.