A while ago, my wife hit me with some very serious truth,
"You read a ton about theology and philosophy, but you don't struggle with that."
Her follow up comments gave me some hints at things I struggle with, so I decided to start reading along those lines. Earlier in the summer, I read Crazy Busy and learned a lot about my issues with always being on-the-go. This month, I took a tip from fellow ChurchMag-er, KC Procter, and read Manage Your Day-to-Day edited by Jocelyn K. Glei.
Written by a cadre of creatives, the book offers really insightful ideas about how to build a better routine, stay focused, etc. It's definitely a book that, though small, requires two readings so that you can be back over sections that really stood out on the first time through.
What I Learned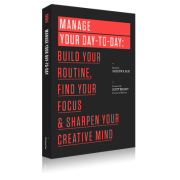 I'm going to write another post about some specific things I learned from this book, but there are so many, in general, that I could make this section go on quite a while. First of all, one of the biggest mistakes I make every day when I sit down at my desk in the morning is that I immediately check my e-mail. Now, I know that you're thinking, "But someone might have e-mailed me! I have to check it first thing!" While it may be true that someone might be waiting for you to check and respond to your e-mail, it's also true that your greatest productivity, your greatest bursts of creative energy are likely to come in those first few hours of the day. So, why would you want to waste that on e-mail? Work creatively for the first two or three hours of the day and then get caught up on your e-mail before or just after lunch.
Secondly, I have a real problem with waiting for the "moment" when creativity will strike, assuming that I'll be able to crank out ten posts, five pages, and a podcast in one afternoon. That's not just dumb—it's immature. Children do things when they feel like it; adults do things when they must be done. Amateurs wait for creativity to come to them. Professionals sneak into Creativity's house at sunrise and put on a pot of coffee before waking Creativity up and saying, "Old friend, it's going to be a long day. We have a lot of work to do," before throwing a bag over Creativity's head and throwing it in the back of the car and peeling out of the driveway. (I think that someone famous said something similar/better. I can't remember who, but if you know, please let me know.)
There's really a lot more in the book, but I think you should have to pay for it to know. (Or use your local library, which is what I did.)
Structure & Content
The book is broken down into four sections, each one designed to deal with a particular issue like routine, focus, etc. Within each section there are five chapters, written in a very easy-to-read language. I recommended the book to a friend, describing the writing as "blog post style" because its concise and easily understood. Something I found very helpful were the Q/A chapters that were scattered about. They offered a very unique look at the topics and were a nice change of pace from the regular chapters. Also very cool are the quotes from famous creates between each chapter, and the "takeaway" summaries at the end of each section. If I hadn't been moving while reading this book, I'd have probably been able to read it twice in the time it took me to actually read it the first time. This is definitely a book that you could (and should) read with a open notebook or laptop to record notes in.
Recommendations
This would be a great book for any creative (or even a pastor). Personally, in the realm of church tech, I think this would be a great book for a professional tech to read. As a full-time teacher, a lot of the suggestions don't really apply to me because of the distinct nature of teaching. However, during the summer, I really put in some serious time at the church, and using what I've learned from this book would make that time much more productive. At the same time, any creative, even a part-timer like me, can learn and apply a lot of this book's information to their workflow. I heartily recommend it.
You can buy Manage Your Day-to-Day: Build Your Routine, Find Your Focus, and Sharpen Your Creative Mind (The 99U Book Series), edited by Jocelyn K. Glei, from Amazon.
[Image via 99u.com]