One of my favorite artists is Andrew Peterson.
He is not only one of my favorite music artists—my wife and I have all of his albums, including Appendix C—he has also become on of our family's favorite authors.  Andrew Peterson is an amazing singer, songwriter, musician, author and he even draws!
Andrew recently had one of those over-the-top successful Kickstarter campaigns he launched for the fourth and final book in his incredible Wingfeather Saga book series. I had the honor of interviewing him a few weeks ago, and I can't wait to share with you his heart, passion and creative insight.
Here's my interview with Andrew…
Andrew Peterson: The Wingfeather Saga
[Eric] I have heard people saying that the Wingfeather Saga is a book series that belongs on the bookshelf (after it's been read, of course) next to great literature like the Chronicles of Narnia and even Tolkien's Lord of the Rings. How does hearing these kind of comparisons make you feel?
[Andrew] I think it's very kind of people to say that, very encouraging, and I certainly don't want to negate their compliment. But I don't agree with them. I could write fifty books and not get close to the caliber of scholarship and eloquence those guys had. If, however, it means that those readers think of the Wingfeather Saga as a story that gives them a similar emotional response, if it somehow piques their longing in the way the Narnia books do for me, then I'm thrilled. Humbled and a bit freaked out, but thrilled. That's what I was hoping to stir in my readers.
[Eric] After having published the first three books in this series, you took a less traditional approach and launched a Kickstarter campaign to publish the fourth and final installment. What prompted you to take this approach?
[Andrew] It's kind of complicated. The first two books were under contract with Waterbrook/Random House, even though it was always meant to be a longer series. They did some restructuring, not to mention the fact that these books, in the beginning at least, didn't sell like Harry Potter (what does?). So I chose to publish book three through Rabbit Room Press, a publishing company my brother and I run. It worked out great because it meant I could own the copyright and could be intimately involved in the entire publishing process. Well, with this last book we wanted to shoot for the moon. I'm a bit of a book nerd and wanted this last book look and feel special—that meant illustrations, good paper, a hardback edition, etc. The only way for our little press to make that happen was with patronage, and Kickstarter seemed like the best way to do it. And, my goodness, it was.
[Eric] You started this Kickstarter campaign with a pledge goal of $14,000 and it has now reached over $110,000. I am sure that you must be feeling a mixture of shock, awe and ecstasy as you the final results. You offered some really awesome backer rewards and stretch goals early on, and have added more and more rewards as the number of dedicated readers giving to The Warden and the Wolf King continued to grow. Did you in your wildest imagination ever realize how much this story had resonated with your readers?
[Andrew] It was one of the craziest experiences of my career. I cried several times, no joke. With music you get some immediate affirmation; you write a song and get to try it out for an audience. They clap (hopefully), and you get to enjoy the interaction right away. But books are different. You spend a year in your head, hunkered over a computer, not knowing if you're wasting your time. Even when the book comes out, the most you get are occasional emails, or conversations now and then. The thing goes out into the world, and unless you're J.K. Rowling and have lines around the block at Barnes and Noble you don't often get any kind of real-time encouragement. It trickles in, you know? This Kickstarter thing changed all that. I'll never forget it, and I'll always be grateful.
[Eric] You are a musician, songwriter, artist and writer, but above all else, you are a great storyteller. I have noticed throughout your writing process, you often refer to your own drawn maps and character art. Describe how important sketching has been to the actual writing of this story?
[Andrew] When it comes to writing fantasy, you have to build a world before you can tell your story. It's the equivalent of research for a historical novel. You have to know the lay of the land, the language people speak, the kind of money they use, the presence or absence of a religious system. That sort of thing. I noticed, at the outset, that my attempts to write the story always puttered out until I finally sat down and drew a map. There's no story until there's a world for the story to inhabit. It's the same way God started his own story of redemption: "Let there be light." So the maps and sketches provided some solid ground for the Igibys to walk on—and walking moves you forward. Not only that, drawing has always been a hobby of mine, and I had a blast dusting off the sketchbook and getting nerdy again.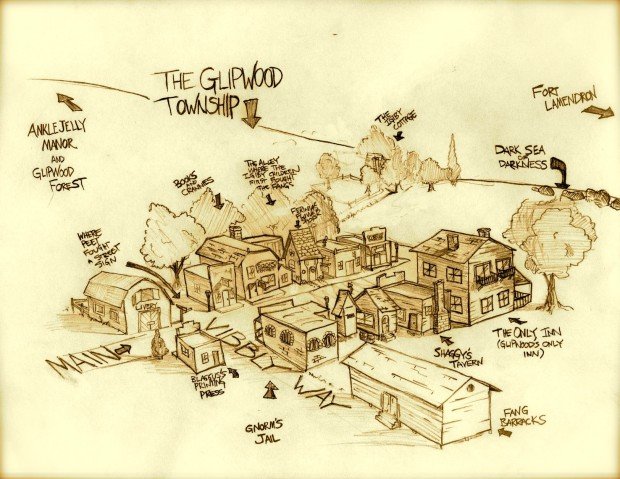 [Eric] You have achieved fame and fans all over the world. It is obvious by now that many of us cannot get enough of the beautiful art you produce. I know, I know, I am laying it on pretty thick, but I am nothing if not sincere, which leads me to my next two questions. When you go home and kick your shoes off, are you just plain, old dad to your kids? Does your own family adore the Igiby clan as much as the rest of us do?
[Andrew] Yeah, I think my family enjoys the books. But I think when you're too close to something you can't experience it the same. I have a buddy who used to work pretty closely with the film industry. We were watching Big Fish, which I love, and he pointed out in one of the scenes that there were boxes on the sides of a building. "Those are covering hotel air conditioning units," he told me. The spell was broken, and now every time I see that scene I remember the A/C units. It's kind of like being a traveling musician, coming home for church on a Sunday—it's hard to sing the worship songs sometimes because I can't stop thinking about the band, the sound, the mechanics of the song. So I bet my kids see this story that way. They're around for all my head scratching, all my wondering aloud about this or that plot point, they see the manuscript coming off the printer and then marked up by my red pen. I think they might enjoy their friends' enjoyment of the books more than the books themselves.
[Eric] Your family has been an integral part of your writing process and it seems that you have led them towards a love and joy for the arts. What would you say to those of us who would like to foster a similar inspiration in our own kids for creativity?
[Andrew] Whenever it's time for me to make a new album, I do something really simple to start the process: I take my guitar out of the case. I put it on a stand in an obvious place in the house, where it sort of stares at me whenever I pass through the room, like a little kid saying, "Wanna play?" Sure enough, I end up picking it up every day, and that's where the seeds of the new songs come from. I think it's the same with our kids. We just put the piano in the main room, lean the guitar against the wall, keep a box of pencils and plenty of drawing paper handy, and throughout the day the kids will stop whatever they're doing and play around with that stuff. My middle son knows the tools in the shed are fair game, and he's always hammering or hatcheting something in the woods. Of course, we praise them when they've made something, and we try to curate the films and music they experience. We try and keep the conversation going about how art, stories, and beauty can point us to the truth.
[tentblogger-youtube fQ7PwQd-3Og]
[Eric] As The Warden and the Wolf King wraps up, it is a little bittersweet. We are going to miss time spent with these amazing characters! Can we look forward to another book or series from you in the future?
[Andrew] Yes! I certainly hope so. I have a few ideas for standalone stories, as well as a nonfiction book. The trick is not allowing myself to work on any of that until the last Wingfeather book is finished. And next year I'm going to start writing for a new record—which means it's almost time to get the guitar out of the case.
You can learn more about Andrew Peterson on his website,  follow Andrew on Twitter, visit the Rabbit Room, and of course, get your hands on The Wingfeather Saga.
Trust me, you have to read these.
[Images via The Wingfeather Saga | Maps via The Wingfeather Saga]