There's nothing quite as comical as life seen through the lens of stock photo websites.
Today, I present to you: Hackers.
1. The one handed hacker: 
2. The infamous "Credit Card Bandit:"
3. "Hee-hee, they'll never catch me with this mask on!"
4. "I'm so good at hacking, I don't even have to turn on the computer."
5. They won't ever catch this hacker. He's wearing camouflage:
6. "I stole this cash and these credit cards off of your computer."
7. The Dan Mario Isotoner Hacker:
8. "Hmph-gargle-hmmm-gah!"
9. Shinobi Online
10. John Saddington blogs from Aspen while on "vacation:"
11. People pay for these photos?
12. There's nothing quite as scary as a live human being crawling out of your computer screen.
13. Inspired by the Matrix? This is how all hackers look while downloading your credit card number. #FACT
14. Seriously? Is he fixing the computer? That must be why it's not powered on.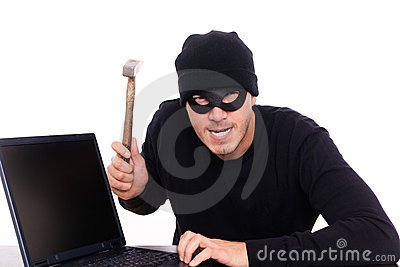 15. Penny for his thoughts: "I need a better job" or "People will pay for this photo?"
16. "What are you looking at? I always wear a ski mask and type with gloves. Don't you?"
17. I saw this guy at Starbucks once.
18. The coolest hacker on earth:
19. Did this hacker fall asleep?
Feel free to add your own captions.
😀
[via Sad And Useless]