It's that time of the week again.
The lead pastor needs a graphic for his new series. The student ministry needs a graphic for their trip to laser tag. Communion is coming up this month, another event that will need a graphic also.
Creating graphics for your church isn't always glamorous. Whether it's the new sermon series, a promotional graphic, an image for social media, or a slide for Sunday morning, the graphics queue can sometimes feel unending.
It's not my intention to talk about church graphics negatively. In fact, I love creating graphics for churches! It's one of my favorite creative pursuits. But I have a system that I've built over the years that allows me to create graphics quickly without sacrificing quality. So when the lead pastor, student ministry, and children's ministry all come to me on the same day, needing graphics by 5 pm, I no longer descend into panic.
I want to share this system with you. The following 5 tips cover some of the best parts of the system I use to create graphics for churches every week. These 5 tips will start you on the path to creating beautiful graphics at a rapid rate.
1. Photoshop
Worst first tip ever, right?
But did you know that the full version of Photoshop only costs $9.99/month? Churches have traditionally avoided Photoshop because of the price. But Adobe has changed their pricing model recently. Instead of costing hundreds of dollars up front, Adobe charges a very small monthly fee. Even a church of 50 people can afford $9.99/month. Even a church plant can afford $9.99/month. Photoshop is the industry standard, and it's now affordable for everyone.
There's also a 30-day free trial if that's your thing.
Thanks, Adobe.
2. Never pay for a stock photo ever again
I can't remember the last time I paid for a stock photo. There are numerous sites that give away stunning photos for free. Here are three of my favorites:
3. Use beautiful fonts
Using beautiful fonts is one of the best ways to create beautiful graphics. A designer has already spent countless hours crafting a stunning typeface, and now you can use that artistry in your own graphic.
Neither does finding beautiful fonts mean spending hundreds of dollars. Here are three of my favorite free fonts:
Nevis (the Bold style is the style I use most)
4. Less is more
My biggest creative fault is that I always want to add more. I think a graphic could always just use one more element. Just one more texture. Just one more icon.
I like to compare graphic composition to juggling. Every time I add another line of text or another icon to a graphic, it's like adding another ball in the air. Sure, juggling eight balls is more impressive than juggling three, but it also increases the risk. Every time I add another ball, I up the chances of dropping them all.
There's a saying that I often repeat to myself when creating a graphic: don't be a hero. Once you've learned to juggle three balls, then move on to four, then five, but maybe not eight. If you try to balance too many elements at once within your graphic, it is doomed to fall flat.
Less is more.
5. Use templates
I saved this tip for last because this is the tip that has helped me most. I'm a huge fan of using templates when creating graphics. Instead of starting from scratch every time, I turn to my library of templates, select the best one, and create a beautiful graphic in less than five minutes.
Another benefit of using templates is that it builds your church's brand. Using templates to create graphics means that many of your graphics will have similar styles. And when used consistently, these styles will become synonymous with your church brand.
I like to create church graphic templates myself. When I get a creative spark, instead of using it to create a single graphic that will be used once on Sunday and never again, I use that same creative burst to create a template that will produce dozens of graphics.
Conclusion
Creating graphics for your church isn't always glamorous. But I love doing it anyway. I've tried to strip out the boring and annoying parts of the job by using a system. And this system allows me to create beautiful graphics quickly and repeatedly. I've posted some of these graphics below for your inspiration.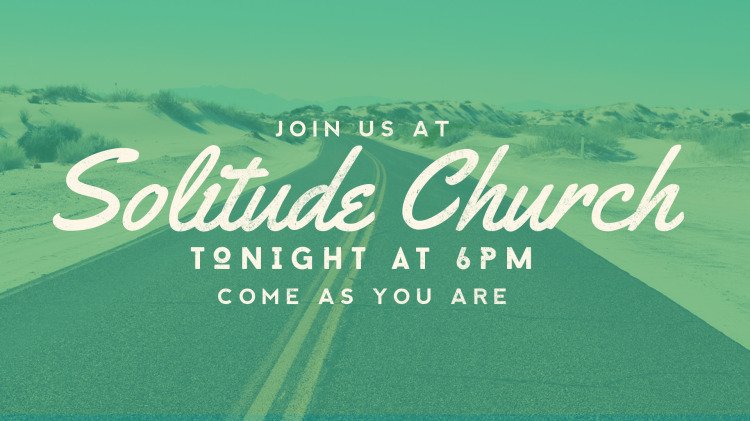 I encourage you to download the fonts and free photos listed above, get inspired, and begin creating!