Seinfeld recently celebrated 30 years since its first episode aired back in 1989. It's been lauded as one of the best TV shows of all time, despite being a show about nothing. Seinfeld is also my favorite sitcom of all time.
One of my pastor friends recently published an article on the Youth Worker Collective blog about what youth ministry leaders can learn from Seinfeld. So I thought I'd write a similar article for other church leaders—especially those in church communication.
1. Skip The Yada, Yada, Yada
Seinfeld didn't invent the phrase 'yada, yada, yada,' but it did help bring it into mainstream culture. One of George's girlfriends on the show uses the phrase to skip the boring parts of her stories.
The church has plenty of 'yada, yada, yada'—boring stuff that most people don't really care about. Most church stage announcements are yada, yada, yada. So is most of the stuff we print in the bulletin. People don't listen because what we're saying isn't relevant to them.
What meaningless stuff does your audience not care about? What information could you skip over— or at least share on a different platform?
2. Don't Be a Close Talker or a Low Talker
Two of the iconic bit-characters in the Seinfeld universe were the Close Talker and the Low Talker. If you're not familiar with them, they're exactly what they sound like. A close talker gets too close to you during a conversation. And a low talker speaks so quietly that you can't hear them.
Both of these situations are awkward for the people you're talking to—especially if they're visiting your church for the first time. So train your volunteer greeters to be hospitable and normal. Give guests a reason to come back to your church a second time.
The Low Talker also provides a good lesson for us to communicate clearly. Make sure to speak up and say exactly what you mean. Otherwise, you might end up wearing a dumb-looking puffy shirt.
3. Get Some Serenity Now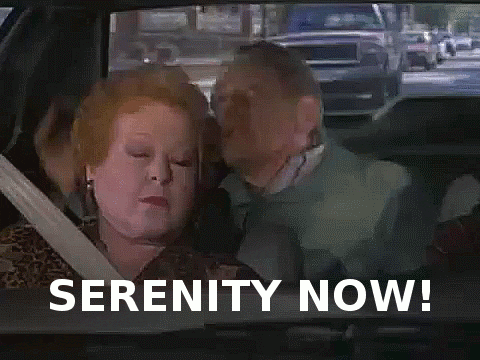 George Costanza's father, Frank, became famous on Seinfeld for his hilarious outbursts of anger. Eventually, he ended up in a therapist where he learned a helpful phrase meant to calm his nerves—'serenity now.' Of course, the irony is that he ends up screaming the phrase at people, causing even more stress.
Working in a church can be a hectic experience. It's important to find ways to rest and relax to prevent from burning out or being perpetually miserable. Otherwise, you might end up as tense as the Soup Nazi—'no Jesus for you!'
Instead declare a Summer of George—take some time off to enjoy being you. Read a book from beginning to end, in that order. Play frolf (golf with a frisbee). Or something else fun. Make sure people know that you're real, and you're spectacular.
4. Love Thy Neighbor
Perhaps the best known character from Seinfeld is Jerry's neighbor Kramer. Kramer's antics and physical humor became a hallmark of the show. Despite Kramer's occasional lunacy, Jerry still let him into his apartment and steal his food.
Most of us have neighbors like that. They may not live next door or be a hipster doofus. But there are people who live in our community who we may find trying at times. Whatever their shortcomings, we're called to love them.
Who are the people in our community that we need to love? How can we invite them into our church? How can we change our communications so they feel more included? Even if they're someone who wears jeans that are too tight.
5. Laugh at Yourself
Seinfeld originated from the comedy of Jerry Seinfeld. Most of the earlier episodes included clips from his standup routine. As a comedian, Seinfeld became known for his observational humor about mundane, everyday things that he'd experienced.
The church isn't particularly known for its sense of humor. But we can change that by learning how to laugh at ourselves on occasion. Shake things up by being funny on occasion—just be careful not to make any accidental pony remarks.
Where are some areas of church communication that you could add in a few pieces of humor? How can you lighten people's attitude with the occasional joke? When used well, humor can be a great tool. But if people don't laugh, remember that it's not them, it's you.
What else can church leaders learn from Seinfeld?