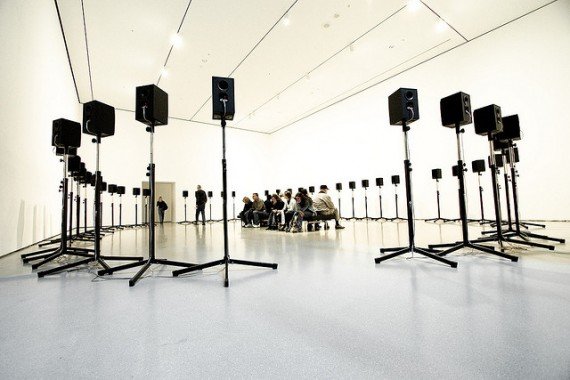 So, surround sound.  Why bother?
The truth is, that surround sound is awesome. It's such a versatile tool, but has been plagued with so many different standards of speaker layouts, and bass-management right from the word go.
Surround sound was designed to give the listener a sense of total immersion in the sound, in kind of a similar way to the experience of listening to a high-end pair of open-backed headphones. When someone says surround sound, often your mind springs first to the cinema where the sound of jets sweeping past you or explosions rumbling from every direction pull you into the action and make it seem that bit more 'three-dimensional'.
Actually, surround sound first came into being in the audio world, and not long after the concept of having two channel stereo caught on.
A few years ago I was fortunate enough to talk to one of the engineers who worked on the James Bond soundtracks and on Jimi Hendrix albums amongst others, and he recalled the first time he ever heard a mix in stereo at Abbey Road Studios in London, where was immediately was converted to stereo and never mixed in mono again!
At that sort of time, people were experimenting with unconventional mixing environments, and of course the natural extension of moving from one speaker to two, is to go from two to four (because as everyone knows, more = better!). That way you could make the 'soundstage' much widers and extend it even further beyond the two more central speakers.
This idea quickly caught engineers' imaginations and the second pair of speakers were moved behind the listener to form a rough square. Then, by panning an instrument between all four speakers, you could locate it at any point in the 360º around the listener. And of course much fun has been had by eager mix-engineers swooping screaming electric guitar solos around themselves ever since.
Unfortunately the cost of four full range speakers was just too impractical for the end user, so instead a sub-woofer was introduced which meant the four speakers didn't have to deal with the low end and could therefore be made cheaper. In my opinion, the addition of the sub-woofer was inextricably linked to the idea of surround sound in cinemas, because it meant that the film mix engineers could put in loads of nice big rumbly explosions and crashes etc, and so in cinema sound the sub channel became a dedicated LFE (Low Frequency Effects) channel, and the surround speakers are generally left to deal with their own bass response.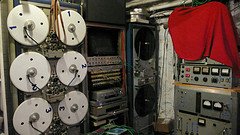 In modern cinemas, it's common to have multiple sub-woofers placed around the room. They employ a really neat little trick of de-correllating the LFE channel between the subs, which is to some extent quite disorientating and really increases the viewer's sense of immersion in the sound.
Back in the world of music, the truth of the matter is that two channel stereo is just fine for the vast majority of listeners, and a surround sound set up is a lot more expensive, cumbersome and can't really be made portable.  There is actually an audio format known as Super-Audio CD which supports surround sound, but both SA-CD players and SA-CD recordings are very thin on the ground.
So, understandably surround audio never really took off until the introduction of affordable home-cinema. You may notice the there are increasing numbers of DVD-audio discs available (for example Hell Freezes Over by The Eagles), and these are the perfect format for the modern surround system, which are usually connected to the TV and Blu-Ray player for watching films, so it's a great environment for the DVD audio format.
Of course there is a down side, and it's that the amount of money people are willing to pay for a surround system isn't really any more than a two channel stereo system. So you need more speakers for the same price, and that means they just won't be of the same quality. 5.1 home cinema systems are primarily optimised for clear and intelligible speech and exciting explosions, which means the 'satellite' speakers don't have to be of any great quality as they are supplemented by a sub, and that arrangement just doesn't sound flattering for music.
In short, surround sound is an excellent system designed to immerse the listener in sound, and on a decent set-up it works superbly but it hasn't really been exploited to its full potential. For the majority of people, your fixed budget will be better spent on a pair of good quality speakers and stick to two-channel stereo.